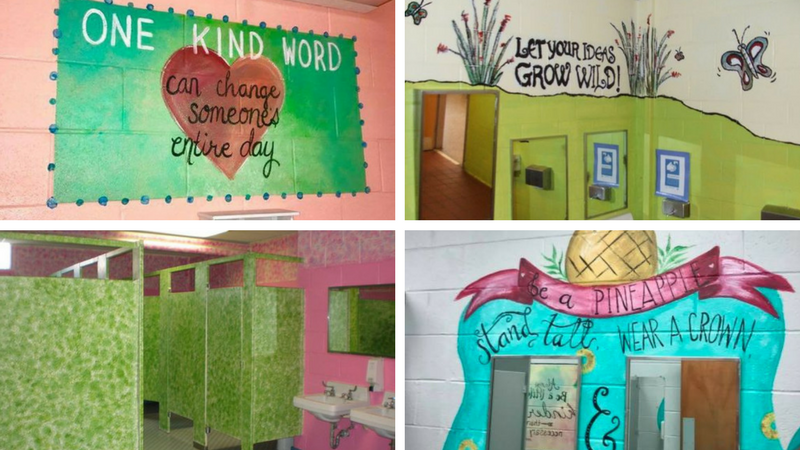 School bathrooms have always had a bad rep. Well known for being unkempt and uncared for, the restroom was seen the place where mischief and bullying happened. But we're starting to see schools that are taking their restrooms back and turned them into havens of inspiration, motivation and peace. Here's a look at some of the best and brightest we've spotted—all great inspiration if you're considering changing up the mood of the bathrooms at your school too.
1. A mural of encouragement
Check out this amazing girls' bathroom we found via Pinterest. Bright-colored paint, decorative tape around the windows and inspiring wall decals is all it took to make this typical school restroom a nicer place to visit.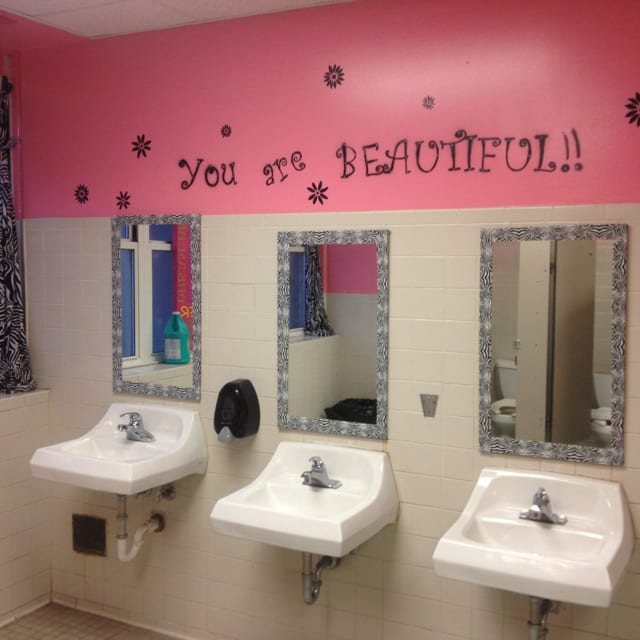 And . . .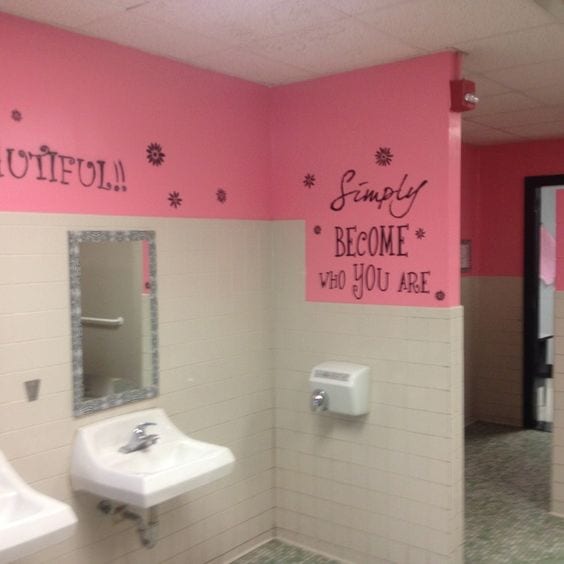 Plus . . .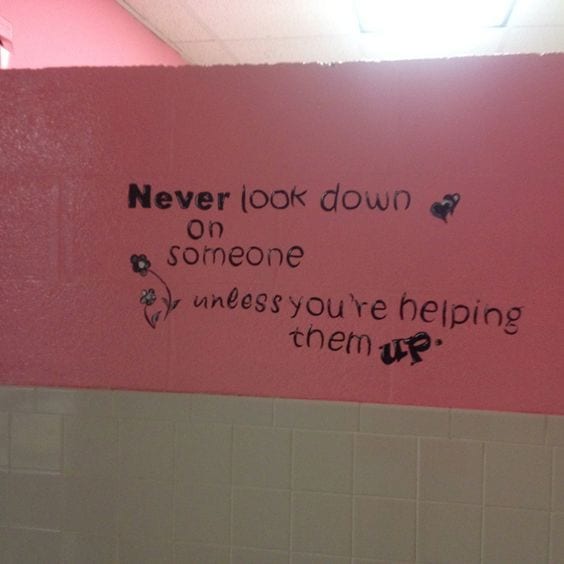 2. Friends and happiness
These bright and playful restrooms at Priceville Elementary School in Decatur, AL are enough to make any kids' day. Circle decals, inspiring words and We came across this photo on the twitter feed of instructional specialist Shelly Hollis who wrote "This bathroom at Priceville El makes me smile!" Same. We found similar circle decals for under 10 dollars on Amazon.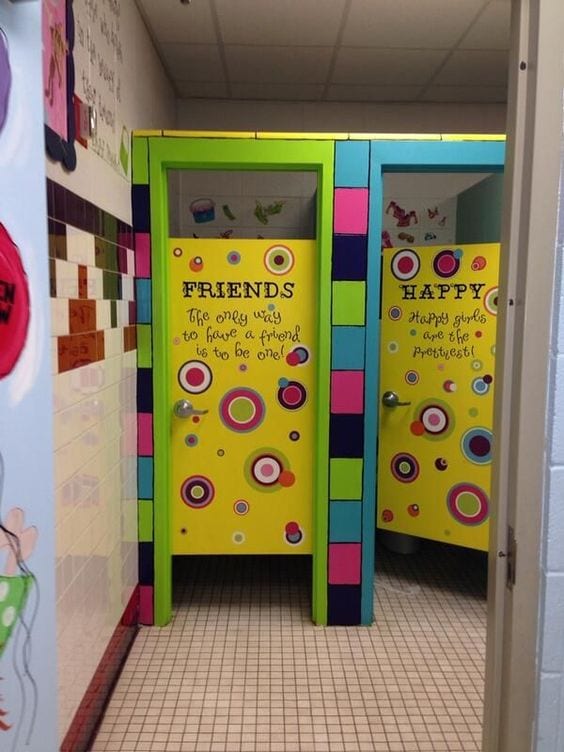 3. A golden rule to remember
At Greenwood Elementary in Sanford, NC, this mural is painted on the hallway outside the bathroom reminding students to do the right thing.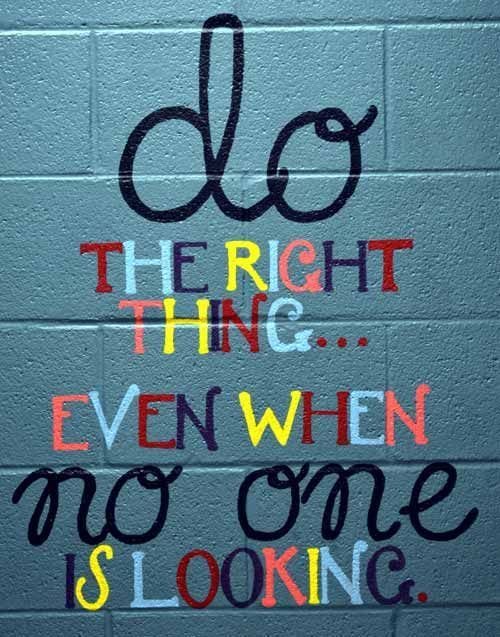 4. A stall for all seasons
The teachers at this Michigan high school each "adopted" a stall and filled it with inspiring quotes, nods to upcoming holidays, study tips and more!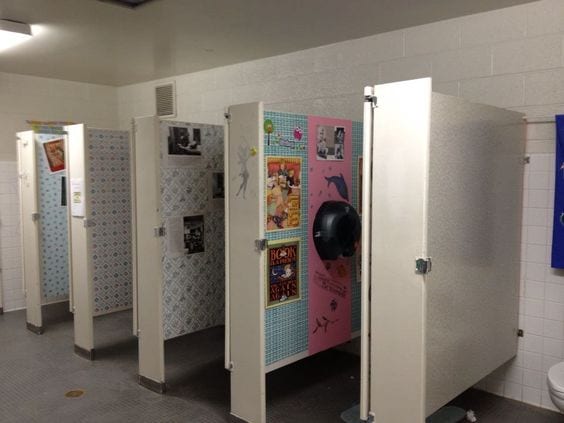 5. Race to success
At Bonnieville Elementary in Hart County, KY,  teachers and volunteers are working hard to create a fun and inspiring  for the students and staff beginning with the bathrooms.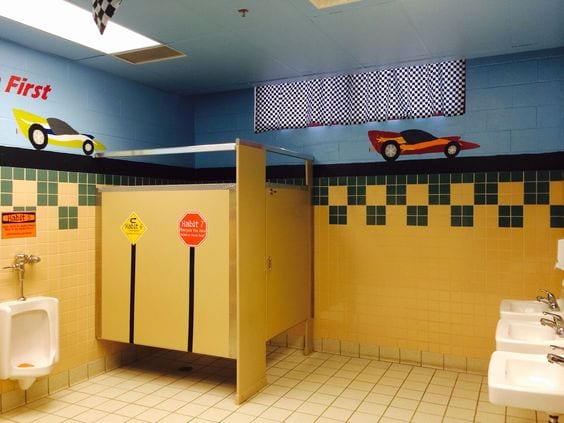 6. Everybody loves superheroes 
Here's another great Pinterest find. Superheroes inspire kids to reach for greatness and perhaps even wash their hands. To recreate this look, try these free superhero-themed downloadable bathroom signs. You can find wall decals of Spiderman wall and inspirational slogans for under 20 bucks. Now you just need a few volunteers to paint the walls.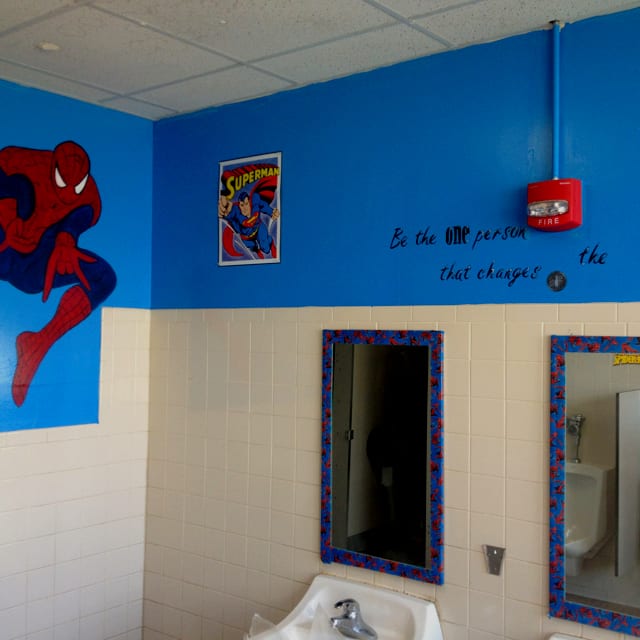 7. Spring is always sprung
The pastel colors and sponge-painted design of of the restrooms at Beaumont Elementary in Waterford, MI have a calming, soothing vibe, turning the bathroom into a place to decompress.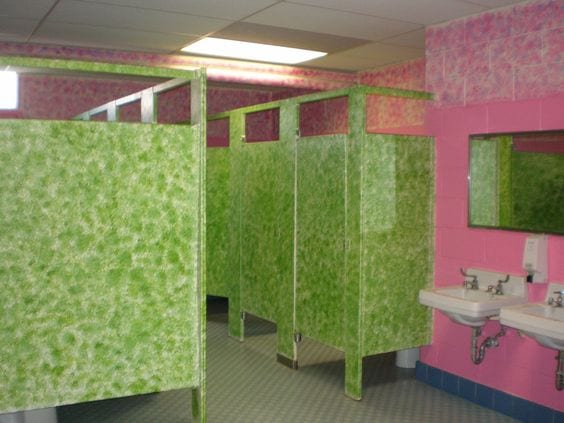 via Pinterest
8. Bright starts
This UK school was designed with kid-friendliness in mind. The vibrant touches no doubt make their students feel happy, safe and secure. See more photos of this amazing school here.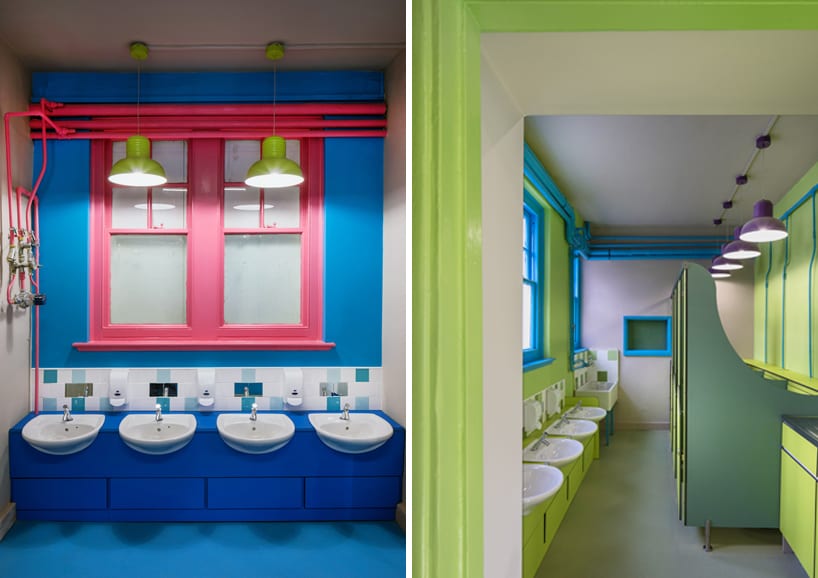 via Design Boom
9. Post-It notes
Here's a much more inexpensive way to build school culture and remind students with different reasons why they matter every day, via the Middle School Counselor.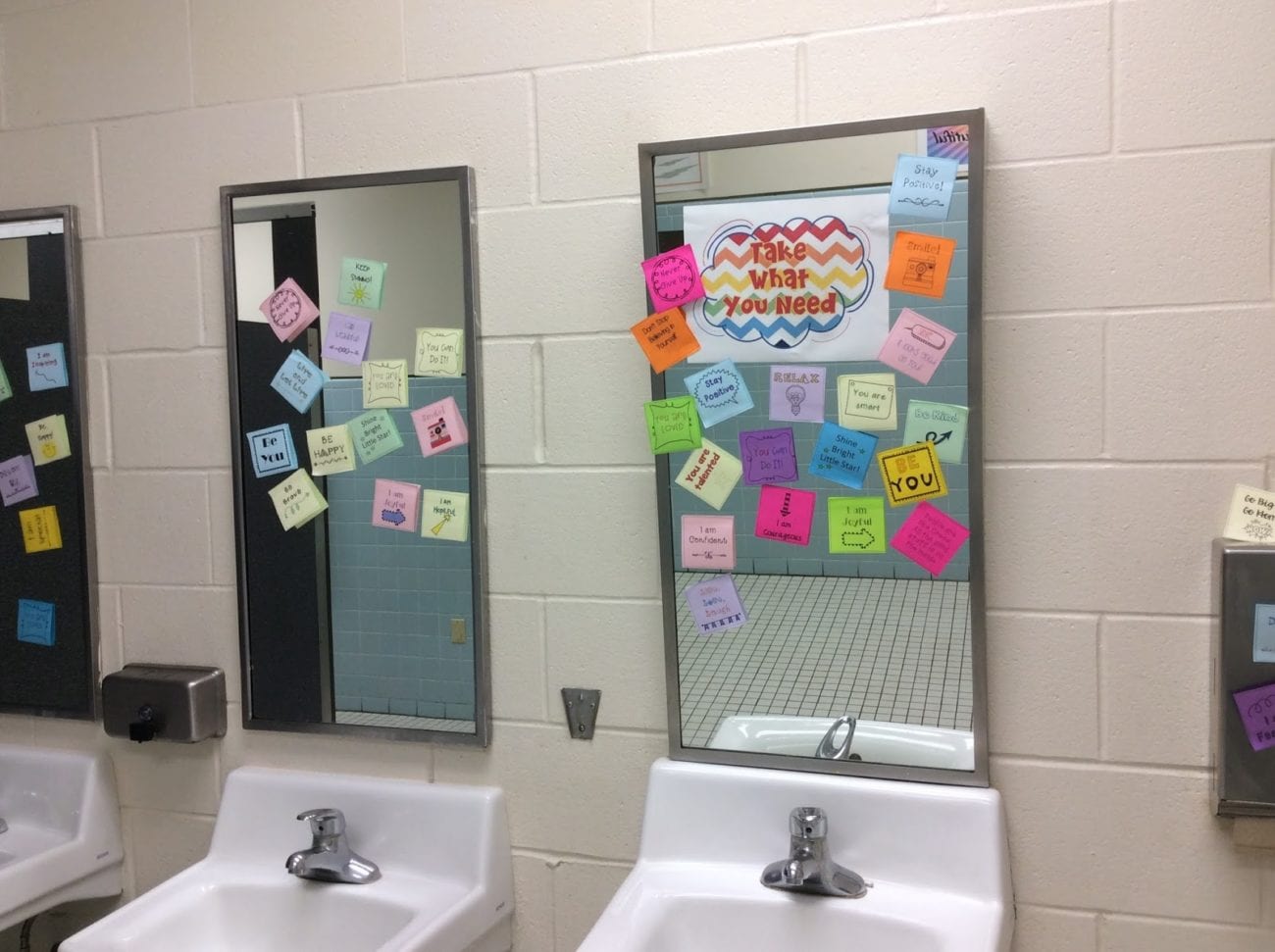 via The Middle School Counselor
10. A place to grow
The restrooms at Hightower Elementary School in Doraville, GA inspire students to watch their ideas bloom in directions they never imagined!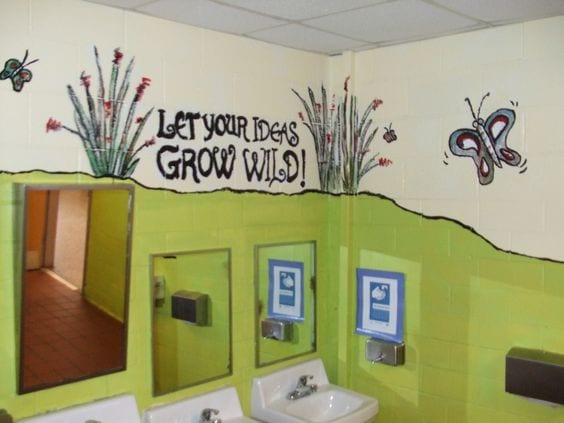 11. A bright and simple reminder
This easy bathroom mural gets to the point!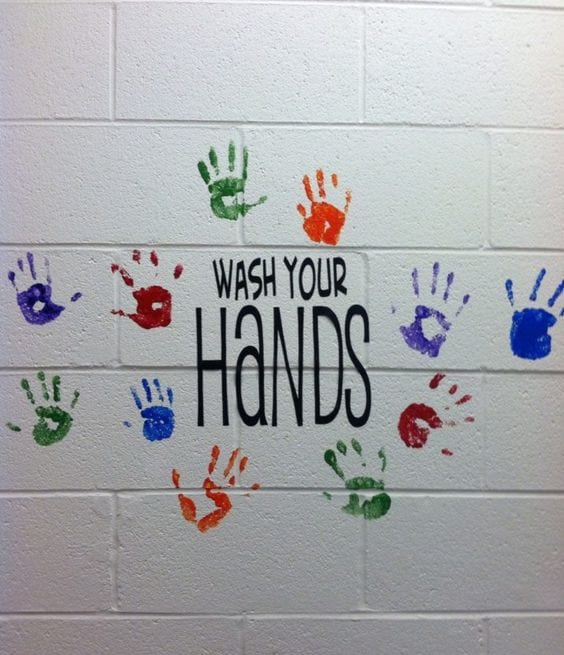 12. Stand Tall Like a Pineapple

This pineapple metaphor is a beautiful message for bathroom mirrors in the boys and girls rooms.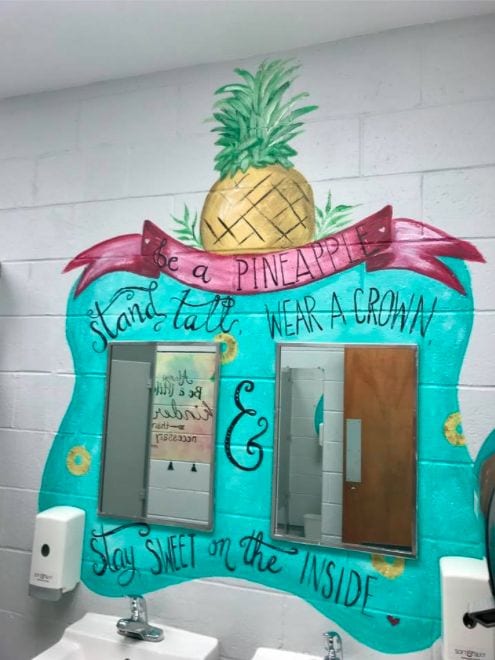 13. Words you always need to hear

Students of all ages and genders can always benefit from a reminder that they're unique and can handle whatever life throws at them. This bathrooom mural tells them every day.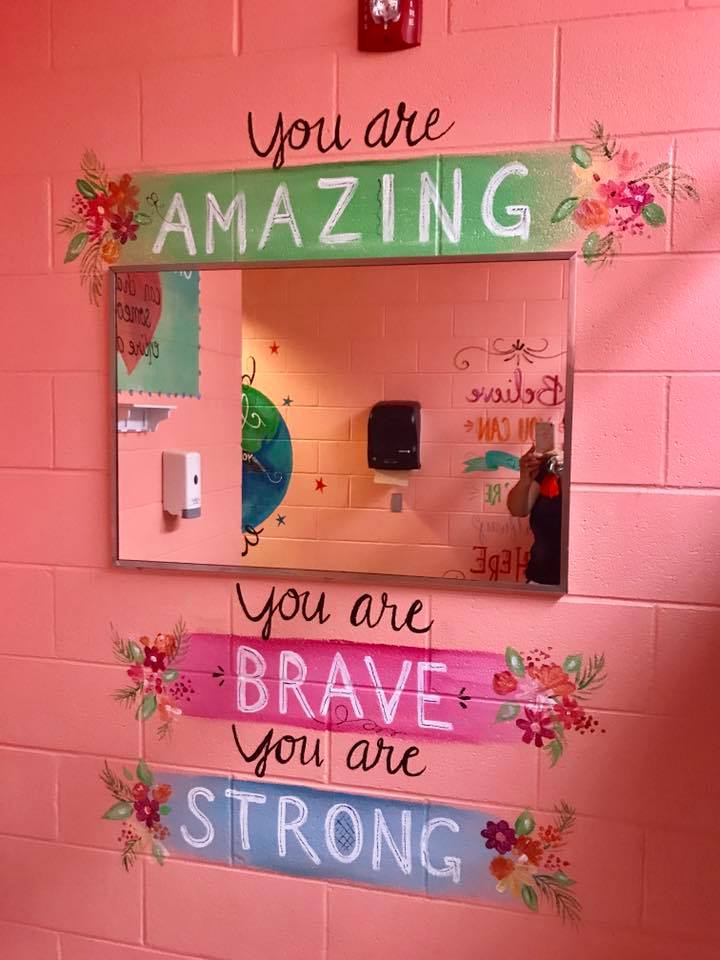 14. Choose Kindness

Words matter and this bathroom mural is a great daily reminder.


via Pinterest
15. Teachers united

As a surprise for the girls who attend their middle school in Alabama, these teachers united over the summer to remodel the bathrooms. The goal? Make every one who looks in the mirror feel beautiful and confident!