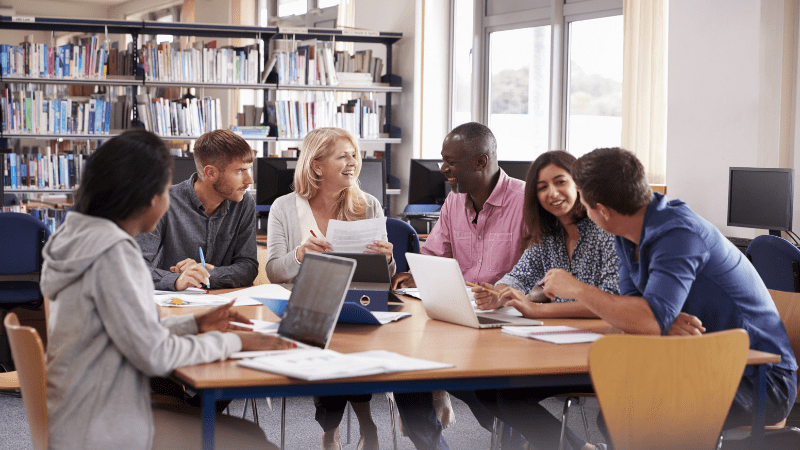 We know what you're thinking, I'm a school leader—not a sales leader—so how can Salesforce help me?
Enter Salesforce.org's newest platform, Education Cloud for K–12.
Your school probably has a diverse group of community advocates—teachers, support staff, school leaders, parent volunteers, local donors, and more. At most schools, the information and systems managed by these groups often get stuck in silos. Education Cloud for K–12 uses Salesforce technology to break down these silos by connecting everything and everyone on a single platform. Simply put, Education Cloud for K–12 makes your school—and ultimately your students—more efficient and successful.
Get your free copy of The K–12 Trailblazer's Guide to Salesforce to see all the ways Education Cloud for K–12 can help your school overcome its challenges. Here are four of our favorites:
Challenge 1: Academic and Behavior Management
A student is acting out in class, but teachers don't know which interventions have been used in the past—or if they work.
Solution: Education Cloud for K–12 gives schools a 360-degree view of students. At Boston Day and Evening Academy, a high school serving students at risk for dropping out, teachers use Salesforce not only to monitor data on their students' academic strengths and gaps but also their social-emotional needs. By logging behavior incidents and risk factors—like a student who misses assignments after their parent suffers a job loss—teachers can quickly and easily see which past interventions have positively or negatively impacted students.
Challenge 2: Parent Communication
Your school struggles to juggle multiple systems for managing parent communication, such as email newsletters, appointment setting, and reminders.
Solution: Personalize and track all your parent communication efforts using Salesforce's proven platform. Denver Public Schools sends bimonthly newsletters and periodic notifications to 54,000 parents using this single system. All parent contacts are now stored and managed in one place, and presentation is consistent across all email communications. The district even has the ability to track open and click rates to monitor which links parents click the most.
Challenge 3: Fundraising and Grant Management
It's tough to effectively manage grants and cultivate donors to secure the contributions you need to fulfill your missions and add supplemental programs.
Solution: Use Education Cloud for K–12 to build donor relationships and easily track and manage grants. Austin Independent School District (AISD) has a fundraising platform that seamlessly integrates with Salesforce. In AISD, 55 percent of students receive free and reduced lunch, so they implemented a district-wide crowdfunding campaign that raised $20,000 overnight to help pay for school lunches. The district can easily track when a donor gave, which cause they supported, and how much they donated. This data informs a long-term strategy for growing donor relationships.
Challenge 4: Admissions and Enrollment
You want to provide a better admissions experience for applicants and their families, but it's time-consuming to streamline different systems and processes.
Solution: Streamline your school's application and registration experience by using Education Cloud for K–12. Newark Public Schools (NPS) in New Jersey used to have a complex enrollment process where parents struggled to navigate multiple deadlines, lotteries, and waitlists. When NPS launched Newark Enrolls, they wanted to provide families with more efficiency, transparency, and equitability. The Family Enrollment Portal, for example, uses Salesforce technology to provide customized user views and special features. Now, Newark parents use a seat tracker and waitlist tool to see which schools have availability and enroll or transfer their students at their convenience.
Get your free copy of The K–12 Trailblazer's Guide to Salesforce to see all the ways Education Cloud for K–12 can help your school or district succeed.