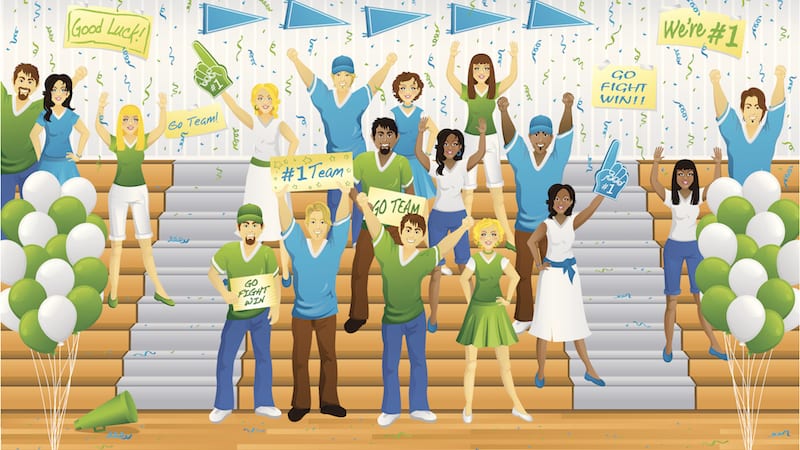 When your whole school is gathered in one space, you are building culture. Whether it's to celebrate homecoming or to recognize a significant school achievement, school assemblies can be a powerful way to bring everyone together and have fun. However, if assemblies are the same every time and lack imagination, they can quickly become an event students, teachers, and you dread. Here are 12 concrete, quick, and low-stakes ways to make your school assemblies unforgettable.
1. Let adults play.
Students love seeing adults be playful, and musical chairs brings out the kid in all of us. Use teachers and school leaders to compete against one another. Level up the experience by investing in a traveling trophy. You can find one at Goodwill and decorate it in your school colors. The trophy can travel from classroom to classroom all year long.
And if you really want to kick it up a notch, check out human music chairs.
2. Lead an all-school sing-along.
It's true. No matter how old they are, sometimes kids just want to sing. Disney has some great karaoke-style sing-along songs available on YouTube. You haven't lived until you've seen a whole auditorium of kids (and adults!) sing along to "Let It Go". Bonus: Flex those literacy skills by making sure you use videos that include the song lyrics at the bottom!
3. Teach superhero yoga.
We all want our students to learn self-care skills. Why not try it as a large group? As a group, try doing body poses. In her 2012 TED talk, social psychologist Amy Cuddy describes how body posture impacts self-confidence. According to Cuddy, "Our nonverbals govern how we think and feel about ourselves. Our bodies change our minds."
Enter superhero yoga. For just a few minutes, ask students to open their standing posture with their legs wider than their shoulders. Ask them to breathe deeply as they slowly bring their hands to their hips. When they've done that, ask them to slowly raise their chins and look out into the corner of the room. Have them hold the pose for 30 seconds as they imagine their capes flapping in the wind. This energizing and empowering pose will have an immediate, positive impact on the rest of their day!
4. Use a classic movie for inspiration.
How fun is this? This Arizona school created a jaw-dropping assembly performance of The Wizard of Oz for their entire school.
5. Celebrate 100 days of school.
One hundred days is a great milestone to boost your community spirit. Create a photo booth or host a 100-themed challenge for your whole school to participate in. Have kids do 100 jumping jacks, stand on one foot for 100 seconds, or dribble a ball 100 times while the whole community cheers them on! Since 100 days typically falls in the winter, it will be great to warm up those long chilly days. Pro tip: This is fun at any age!
6. Choreograph a glow stick dance!
The faculty at this school made an assembly memorable by dressing in black and choreographing a glow stick dance! Bonus: Give your audience glow sticks in your school colors to boost participation.
7. Conduct Minute to Win It competitions.
Minute to Win It has so many quick, easy, and fun games. They require little to no special equipment, and they are quick mood boosters. Best of all, they take only one minute!
8. Hold a Pac-Man tournament.
It's time to bring the 80s back, and you have the power to make it happen. Pac-Man is an easy, fun game that anyone can play online for free. Set up two projectors and let the whole school watch a friendly competition unfold.
9. Bring in some furry guests.
Everyone loves animals! Bring in some service animals or a portable zoo to increase the wow factor at your assembly. Handlers typically offer great student-accessible lectures for large groups.
10. Project faculty baby pictures on a big screen.
There is not a kid alive who doesn't crack up at the idea of their teacher once being a kid. Make a slideshow and pick a kid from every grade to guess the baby. This could be a great way to start or end a series of assemblies.
11. Have a five-minute film festival.
On the dreariest February day, start or end your assembly with a curated YouTube playlist of cute baby animals! This is guaranteed to fluff the warm fuzzies. Have the kids vote by applause for their favorite at the end.
12. Bring in the community.
Kids don't often get the benefit of connecting with adults outside of their bubble. How cool would it be for the whole school to hear from a zookeeper, a chef, or an emergency room doctor? For older grades, consider creating a panel discussion about career paths. Kids would benefit hugely from hearing from professionals across career fields and learning what it's really like to build a career. Check out this link for ideas.
These are just a few good ideas to inject positivity and joy into the school day, but don't forget: Your faculty is a gold mine of excellent ideas. Don't miss an opportunity to bring them into the conversation to get their insights. School assemblies can be an incredible way to get your whole school together and build a strong, joyous culture.
Join the great conversations going on about school leadership in our Facebook groups at Principal Life and High School Principal Life.
Plus, check out this article about 10 of the Best Principal Stunts We've Ever Seen.