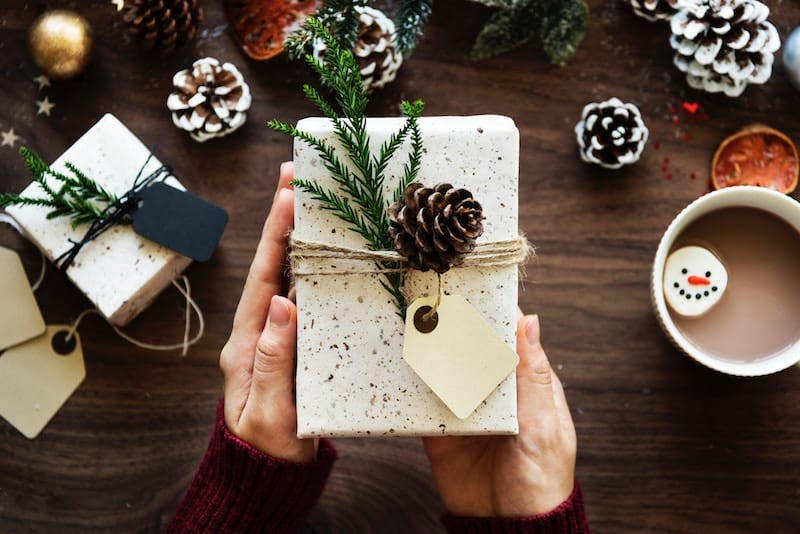 December is in full swing! Think beyond the 
holiday party
and find time for fun now. The good news is that it's easy to create special holiday traditions for your school—events kids will look forward to year after year. And you can do this while still being inclusive and mindful of the diverse traditions and cultures in your community, just like these schools do!
1. Do a hot chocolate bar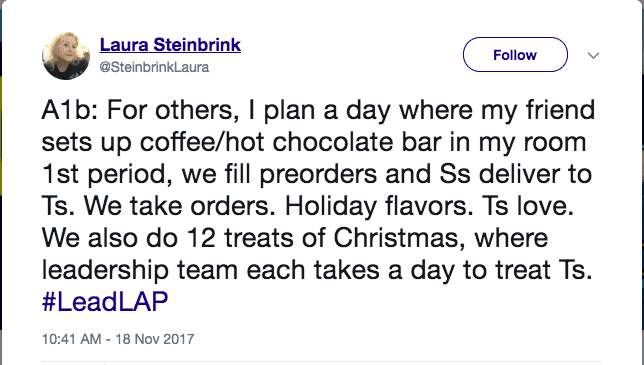 Source: https://twitter.com/SteinbrinkLaura/status/931910286155579392
'Tis not the season without a warm beverage in hand! You provide the hot chocolate and the toppings. Sprinkles are essential!
2. Get some "Sneaky Cards"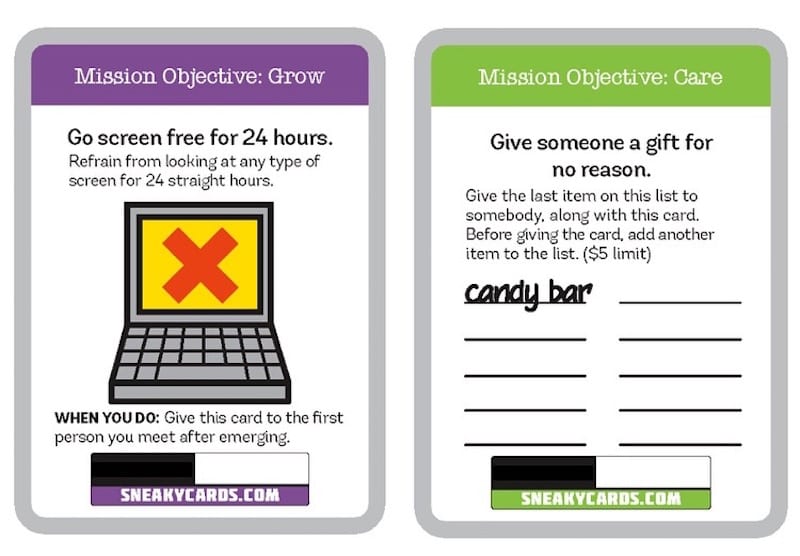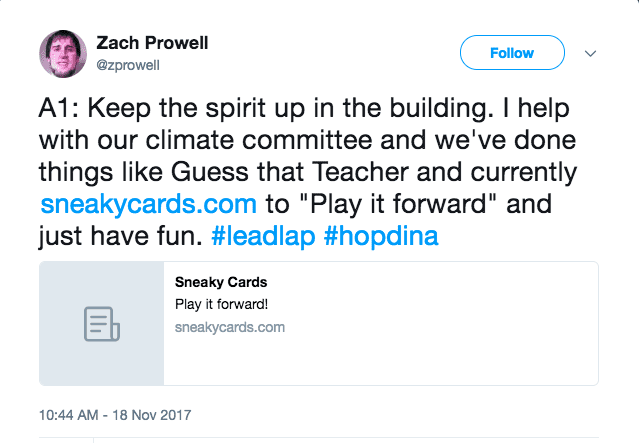 Source: https://twitter.com/zprowell/status/931910905952129025
These are a fun way to spread joy!
Sneaky Cards
 are a set of cards that give the holder a special mission. The fun will last way beyond December!
3. Celebrate with staff BINGO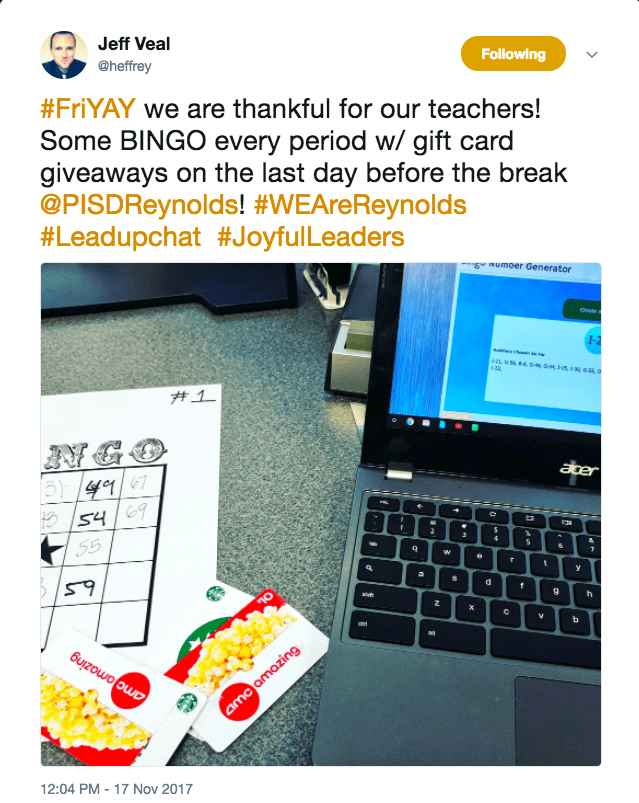 Source: https://twitter.com/heffrey/status/931568849744486400
Joyful adults create fun and productive learning experiences for kids. What could be more joy-inducing than all-faculty BINGO? Announce numbers during passing periods and give away awesome prizes!
4. Popcorn bars are easy and fun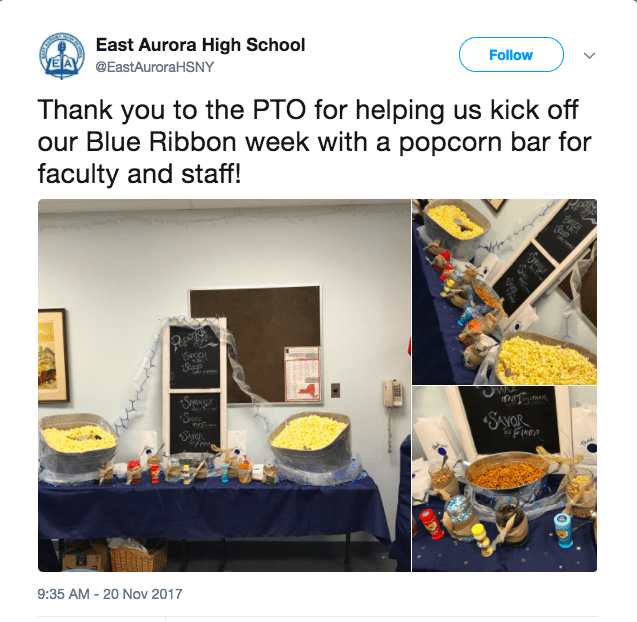 Source: https://twitter.com/EastAuroraHSNY/status/932618405538156545
Here is a fun and delicious way to boost spirits! Get some fun bags so teachers can grab their popcorn and go.
5. Let the band play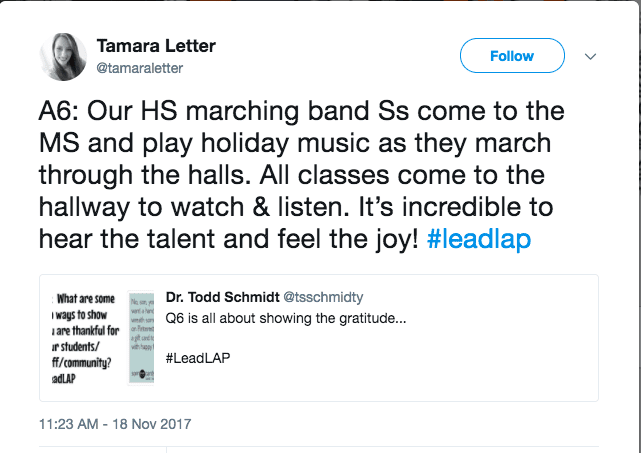 Source: https://twitter.com/tamaraletter/status/931920896863948802
This is one of my favorite ideas! Students are no doubt already practicing for their holiday concert. Why not give them another appreciative audience? Bonus points if you post pictures on Twitter!
6. Send that email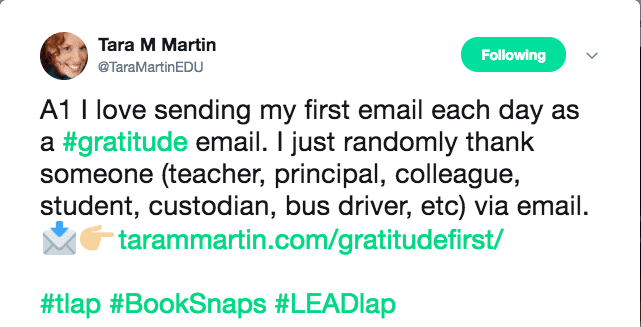 Source: https://twitter.com/TaraMartinEDU/status/932794131990052864
Gratitude is the best gift. Boost your gratitude practice by starting every day with a thank-you email. You might inspire someone else to do the same!
7. Host a holiday food drive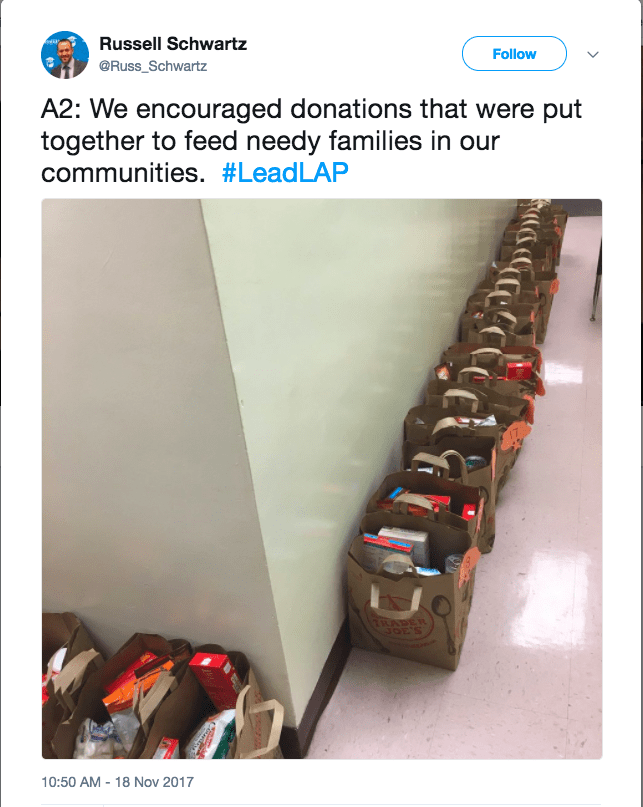 Source: https://twitter.com/Russ_Schwartz/status/931912560730890241
Do good by supporting members of your community who need extra support. Make it into a competition and reward the winners with a pajama day!
8. Guess the teacher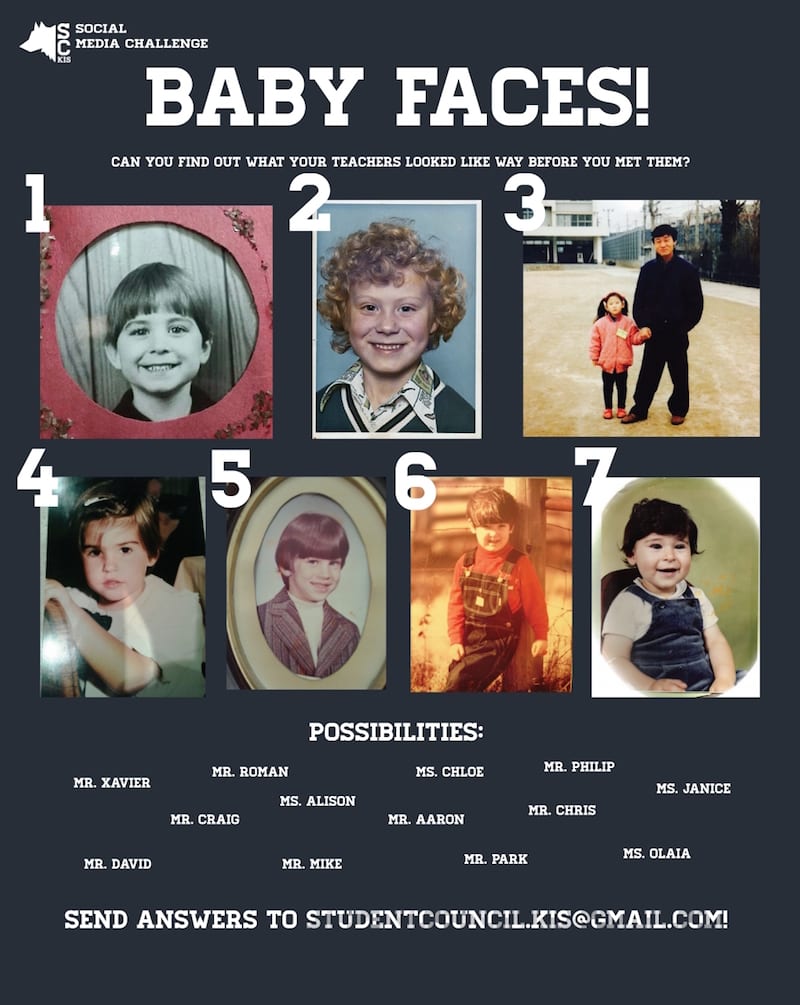 Go beyond the classic baby photo contest. Ask faculty to submit old holiday pictures! I love how
this school
set up their Guess the Teacher game!
8. Kudos cookies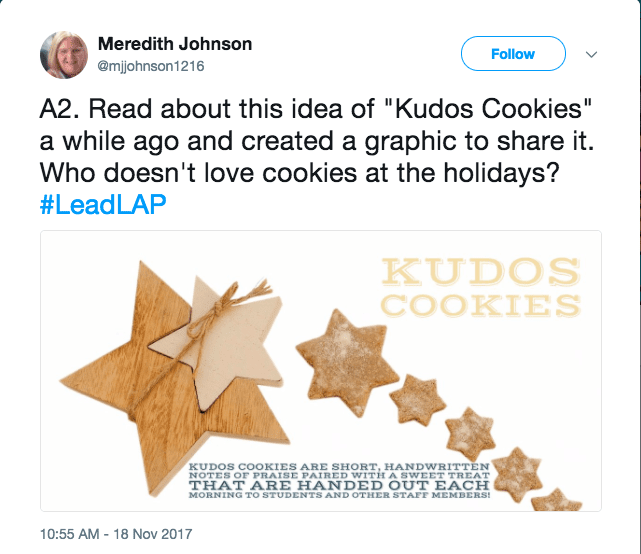 Source: https://twitter.com/mjjohnson1216/status/931913888681156612
Cookies and handwritten notes are a winning combination. Give kudos for specific things that you appreciate.
9. Make a selfie station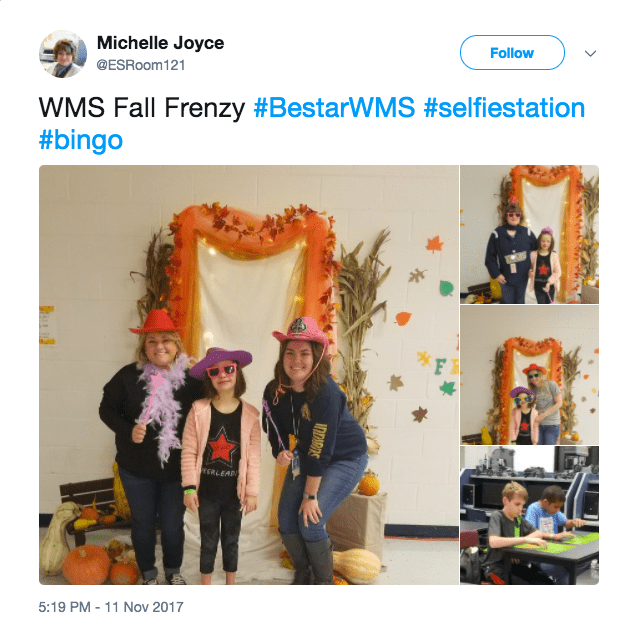 Source: https://twitter.com/ESRoom121/status/929473595583205376
Everyone loves selfies! Bring in winter-related props to make a selfie station that celebrates the start of winter! Create a hashtag on social media so you can see what your community creates.
10. Keep the faculty room stocked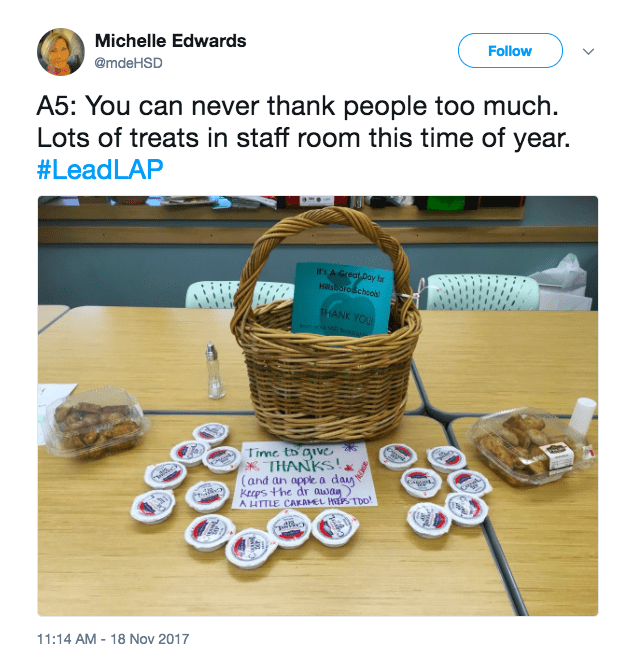 Source: https://twitter.com/mdeHSD/status/931918599266091008
January is for moderation. December is for snacks, sweet treats, and warm drinks! Post a sign-up sheet so everyone can contribute.
11. Music can enhance the celebration

Source: https://twitter.com/SteinbrinkLaura/status/931919079459491840
12. Show gratitude on wheels with a snack cart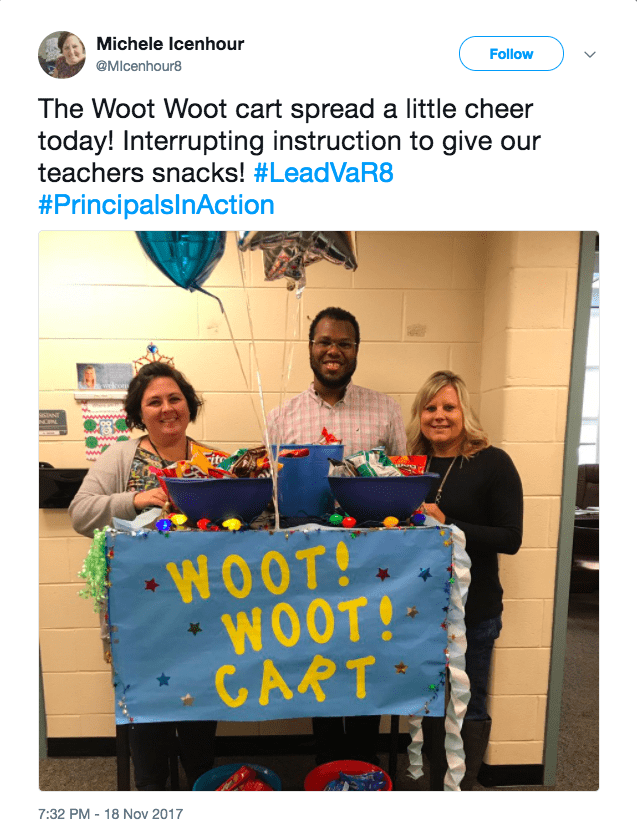 Source: https://twitter.com/MIcenhour8/status/932043900734312448
This time of year is so busy! It can be hard for teachers to make it out of their classrooms for even the smallest break. Take your show on the road with this awesome snack cart and hand deliver some goodies.
13. Movie time is magical

Source: https://twitter.com/BobbieFrench/status/931913140836687872
Everyone loves a movie day. All-school film viewings are a great way to build memories together! Kids never forget these kinds of experiences.
14. Don't forget to celebrate the holidays with your PLC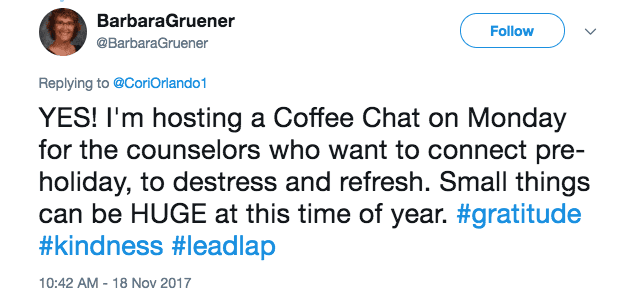 Source: https://twitter.com/BarbaraGruener/status/931910488522452994
During the holiday season, people often take a break from the extra things they do during the year. Don't forget to refresh and celebrate with your PLC! A low-key coffee break is an ideal way to connect during this busy time.
15. Never underestimate the power of a handwritten note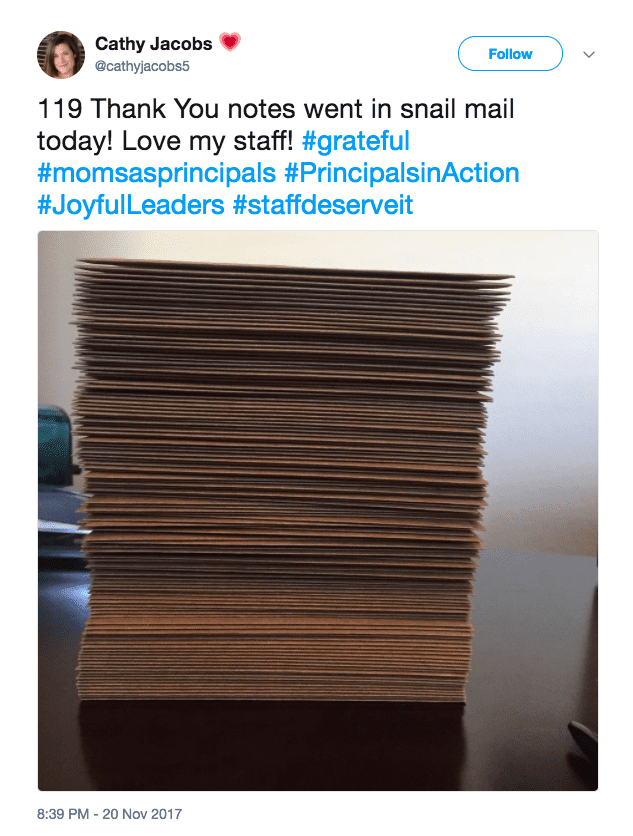 Source: https://twitter.com/cathyjacobs5/status/932785535344697345
Join our Facebook group Principal Life for more conversation about and insights into the challenges of school leadership.